Best of Salida - Fishing the Arkansas River
Those who come to fish the Arkansas River are wetting their hooks in the most popular fishing waters in the state of Colorado, according to angler surveys conducted by the Colorado Division of Wildlife. From its origin as a series of small tributaries at an elevation of 14,433 ft. near Leadville, the Arkansas grows into a major river around Granite, Colorado; from here, it travels a rambunctious path through the Fourteener Region while providing some of the best trout fishing in the country.
Why so popular?
For one thing, the river provides some great fishing opportunities—the stretch of river in and around Salida has up to 5000 trout per mile! And, there is more than 70 miles of public access along the river, as well as plenty of sites to launch boats and float-and-fish. Also, the area has almost year round insect action, a plus for those who love fly fishing.
Trout fishing is king along the Arkansas River, waters which are home to the brown trout and the rainbow trout. Brown trout were introduced in the 1800s and subsequently overtook the rainbow trout as the dominant fish. This shift in dominance was made even more pronounced as a result of whirling disease among the rainbow trout population. In response to this issue, the Colorado Division of Wildlife stocked six-inch Hofer/Colorado River rainbow trout in 2009, a species deemed more resistant to whirling disease.
Rainbow trout are heavily stocked by the Colorado Division of Wildlife in an effort to increase species diversity and enhance the angling experience. The Hofer/Colorado River rainbow trout cross that was introduced several years ago is more resistant to whirling disease and thus is hoped to provide the basis for the creation of a self-sustaining rainbow trout fishery.
Rainbows are known for acrobatic displays when hooked, while the browns tend to head for deep water and wait you out! Most caught fish are in the 12 inch range, with an occasional trophy-sized catch. Rainbows tend to be a bit longer and larger fish than their more numerous neighbors, the brown trout.
One thing to keep in mind when accessing any of the numerous public fishing access areas on the Arkansas is that many of these fishing spots are leased from private landowners. So, please treat these access points with respect. Fishing spots can be easily identified by looking for the green signs. Many of the fishing holes on the Arkansas have special regulations, so read all of those 'green signs' posted along the river.
Now for some fishing "secrets." The major factor in determining whether a fishery is viable and healthy is water flow. Low flows create the best feeding conditions for trout and during such times, these fish tend to grow better and bigger. Obviously a high or low flow year by itself is not the only factor since other things such as the presence of heavy metals have an impact as well. As warmer temperatures make their way into the Arkansas Valley and the river temperatures climb, fish tend to move out of their deep water winter habitats and into the head of river runs of 3-5 feet in depth. This is simply a matter of more plentiful food in such locations. But, the fish also need a place to rest and thus, sites that have large boulders along the river course typically are better fishing "holes" since the fish will slip into these safe harbors from time-to-time for a rest.
Some favorite fishing spots are along Highway 24 (north of Buena Vista) and Highway 285 (south of Buena Vista), both which follow the river's path closely. The section of the Arkansas River running into Canon City has produced the greatest number of fish over 18 inches in length of any fishing spot along the Arkansas. The highest trout density is a stretch of river just below Salida.
Finally, make sure to familiarize yourself with the current fishing regulations. Most regulations refer to barbless hooks or mandatory catch and release, but it is best to review the Colorado Fishing brochure for this important information. Anyone over the age of 16 who wants to fish in Colorado must purchase a license to do so; these can be purchased online or at any license agent or CPW office. You may also call 1-800-244-5613 to purchase a fishing license.
---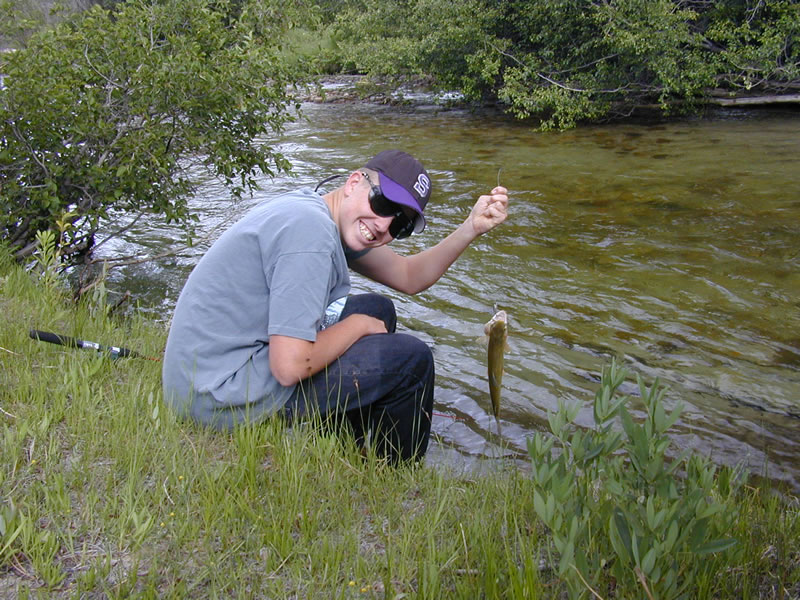 Gold Medal Water
In 1982, the 28-mile stretch of the Arkansas—from the Stockyard Bridge just east of Salida to Fernleaf Gulch between Cotopaxi and Texas Creek—was designated as "gold medal" water by the Colorado Division of Wildlife, a tag meaning the site has the highest quality habitat for trout that exists in Colorado and also offers the greatest potential for trophy trout fishing. The Arkansas is one of nine rivers in the state to have the Gold Medal Water designation.
Fish reproduction in the Arkansas River's gold medal waters is natural, leading to its additional designation as "wild trout waters." In such situations, there are self-sustaining trout populations which are stocked only under emergency circumstances.
The native fish is the brown trout, representing at least 75 to 85 percent of all trout in the Arkansas. Rainbow trout were stocked in 1985 in an experiment to establish that species as well.
Estimates of "trout-per-mile" along the Arkansas range from 2,000 to 5,000 fish (the latter figure comes from the Colorado Division of Wildlife, as mentioned above). The best fishing conditions are those marked by low flows around 1,200 cubic feet per second and clear water. April is the most heavily fished month of the year, possibly due to the caddis fly hatch that jumpstarts the season. This hatch begins near Cañon City in mid-April and steadily moves upriver towards Salida as water temperatures warm up to around 54°F.
For most of the Arkansas River, statewide bag limits apply. In the Salida area, however, there are some exceptions to this bag and possession state limit: fishermen on the 7.5 mile stretch of 'gold medal water' from the Stockyard Bridge (Chaffee Co Rd 102) downstream to Badger Creek can bag up to four brown trout of any size. All rainbow trout must be returned to the river. And, fishing along this stretch is limited to artificial flies and lures only. Elsewhere, most places along the Arkansas River allow bait angling. (The only other exception is a five-mile stretch in Hayden Flats below Leadville).
---
Where to Fish
Public fishing access is available on public lands and on fishing easements crossing private lands. Signs mark all public fishing access points along the river. Some recommended access points to the river are at the Buena Vista Recreational River Park at the east end of Main Street in Buena Vista; north of Buena Vista near the Midland Railroad tunnels; Ruby Mountain, 8 miles south of Buena Vista; and, Brown's Canyon, 11 miles south of Buena Vista.
---
Find a Great Fishing Spot
In addition to the many miles of Arkansas River fishing, there are over 200 miles of stream fishing, as well as good angling sites among the 40 alpine lakes, two reservoirs and six smaller lakes in the region. All public streams and lakes are stocked with rainbow trout by the Colorado Division of Wildlife. Browns and rainbows are usually found at the lower elevations; brook trout and cutthroat are found at higher altitudes. Listed below are some of the better fishing spots in Chaffee County. Fishing licenses are required for anyone 16 years of age or older. Make sure to check the fishing regulations since some sites allow fishing with flies and lures only and there are also fishing locations in which catch-and-release is the rule.
Antero Reservoir: This artificial reservoir is more than 100 years old, spans 2,200 surface acres, and supplies drinking water to the city of Denver. It is considered to be one of the more shallow water reservoirs in the state and was closed from 2002 to 2007 due to drought conditions. When it re-opened, one lucky fisherman caught a cutbow trout that was a record 28.5 inches long and weighed 18.5 pounds! Because of its shallowness, it is a popular ice fishing spot during the winter months.
Arkansas River: number one fishing waters in the state of Colorado; mostly brown trout. Trout Unlimited, an international nonprofit organization that advocates for the conservation of freshwater streams and rivers and the fish of these waters, considers the Arkansas as one of the top 100 trout streams in the U.S.
South Arkansas River and the North Fork of the South Arkansas: drains east from Monarch Pass along U.S. 50. Anglers find the South Arkansas and its tributaries—North Fork, Little Cochetopa Creek, Pass and Greens Creek—a delight. Cochetopa Creek is mainly private, although there are about 8 miles of access to this stream. Bass, northern pike, and brown trout live in these waters.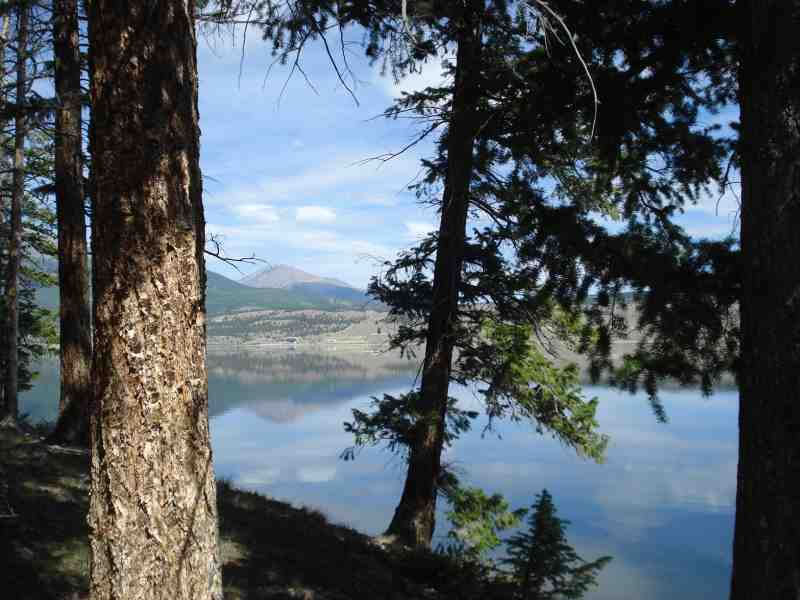 Chalk Creek: 8,300 to 10,000 feet above sea level; stocked with rainbows; brook trout high on both forks and browns at lower levels
Clear Creek Reservoir: 8,800 feet high; on Highway 24, 15 miles north of Buena Vista; stocked with rainbows
Cottonwood Lake: this lake sits in the San Isabel National Forest at 9,600 feet in elevation and is located about 8 miles west of Buena Vista; rainbow trout
Cottonwood Creek: North, Middle, South Forks: stocked with rainbows, also has brown trout
Eleven Mile Reservoir: rainbow, brown, cutthroat, kokanee, pike; fishing tournaments year-round
Fooses Creek: brookies at high elevations and a few browns at lower levels; Fooses Lake (hydroelectric pond) stocked with rainbows
Green's Creek: brook trout at high levels and browns at low levels
Harvard Lakes: at 10,200 feet high, this scenic region is reached by hiking more than 2 miles north along the Main Range Trail from where it crosses Cottonwood Road; natives and rainbows, largest trout in lower lakes
Little Cochetopa Creek: brook trout at high elevations, some browns at lower levels
Middle Fork of South Arkansas: Fair for cutthroats
North Fork of South Arkansas: Good for brook trout high and fair for browns at lower levels
North Fork Reservoir: stocked with rainbows; also a few graylings. May not be open because of snow until mid- or late-June.
O'Haver Lake: stocked with rainbows
Poncha Creek: browns at low levels, brookies and cutthroat at upper elevations; no rainbows at lower elevations, some left at high levels
Pass Creek: brook trout at higher elevations and cutthroat, graylings and brook trout at the head lake
Silver Creek: brook trout at high elevations and browns at lower elevations
South Arkansas: brook trout and cutthroats at upper elevations, lower elevations good for browns
Taylor Park Reservoir: 9,500 feet above sea level; 2,400 surface acres, located 3 miles from Buena Vista, Colorado, over Cottonwood Pass; rainbows, large browns, cutthroats, kokanee and northern pike; fishing can be good from shore. Cottonwood Pass summit lies a few miles east of this reservoir. Not only a good fishing spot, but also great for sightseeing.
Turquoise Lake: 1800 surface acres, west of Leadville; breathtaking (in "beauty" as well as reality…sits at almost 10,000 feet above sea level) high alpine setting in part of the Pan-Ark project; boat ramps available; stocked with trout since 1997—mackinaw trout, rainbow trout, brook trout
---
Fishing Gear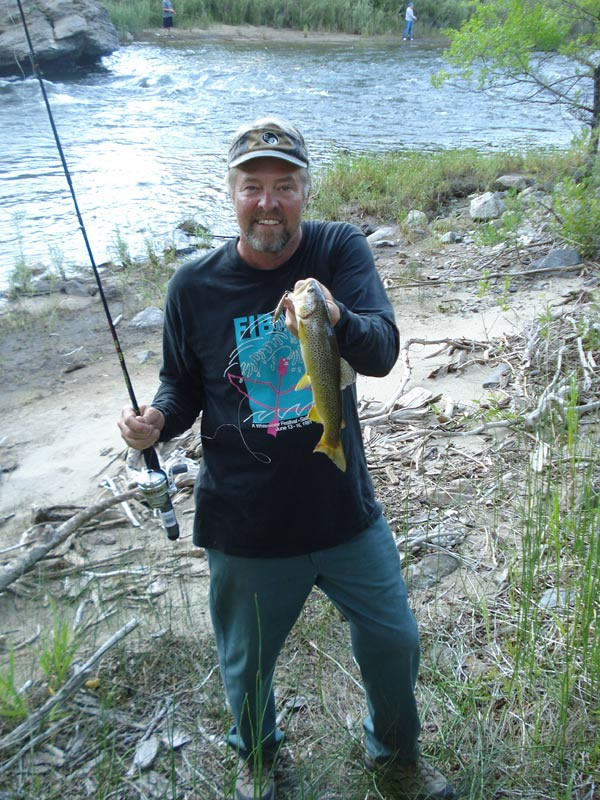 American Hunting & Fishing Supply
Licenses, fishing gear, art
Lawrence Havener, Owner
645 E Rainbow Blvd
Salida, CO 81201
(719) 530-0725
www.AmericanHuntingandFishingSupply.com
Arkansas River Fly Shop
Complete selection of tackle, guided trips
(Salida) guide service & fly shop
7500 W Highway 50
Salida, CO 81201
(719) 539-4223
Info@ArkAnglers.com
Hi-Rocky Gift & Sport Store
111 Cottonwood Ave
Buena Vista, CO 81211
(719) 395-2258
www.hirocky.com
info@HiRocky.com
---
Fishing Guides
Arkansas River Fly Shop - ArkAnglers
(Salida) guide service & fly shop
7500 W Highway 50
Salida, CO 81201
(719) 539-4223
Info@ArkAnglers.com
ArkAnglers
(Buena Vista) full service fly shop
545 N Highway 24
Buena Vista, CO 81211
(719) 395-1796
Info@ArkAnglers.com
Between the Lines Boating Hardware
May-September Guided Fishing Tours
17920 S Highway 285
Nathrop, CO 81236
(719) 539-6851
River Runners
24070 County Road 301
Buena Vista, Colorado 81211
Toll Free: (800) 723-8987
www.whitewater.net
---
The End of a Day of Fishing
Yes, it happens…after a sunny day spent fly fishing along the Arkansas River, as cruel as it may sound, it does in fact draw to a close. Maybe your arm is a bit tired from reeling in all of those trout—remember, there are as many as 5000 trout per mile of Arkansas River from Salida to Wellsville, one of the most productive trout fisheries in Colorado, all waiting for the right dry fly or nymph "presentation." Or perhaps your legs feel a bit stiff from standing in the cold Arkansas River water while fishing.
Have we got some suggestions for you!
First off, you will need a comfortable bed for the night. If you planned ahead and reserved that fishing cabin, then you are all set. But, maybe you were so excited about fishing the Arkansas River that the minor detail of where to sleep slipped your mind.
No problem, Salida has more lodging properties than you have time to consider. Take a look at our list of Salida lodging hotels, motels, and bed and breakfasts to make this decision easier…and wiser.
Also, you will need to refuel for another day of Arkansas River trout fishing. The Salida restaurants offer a range of options from quick and simple dining to refined gourmet selections. We have two new gastro-pubs in town, Benson's and the Fritz. There are four microbreweries in Salida and Buena Vista: Moonlight Pizza, Amica's, Elevation Brewing Company, and Eddyline Microbrew in Buena Vista. Check our Dining page for more information.
Finally, if you want to top off the day by a relaxing soak in Colorado's best hot springs water, you have several choices. Salida Hot Springs Pool is great for kids; if you want to gaze up at the stars or look at the outlines of the mountains while enjoying your soak, consider Mt. Princeton Hot Springs or Cottonwood Hot Springs in Buena Vista for world-class healing waters.