Contact Us
monty@salida.com

Travel Colorado - Hiking and Climbing
Hiking the Colorado backcountry has become a very popular past-time in the last few years. What better way to get away from the mad pace of the city!
Hiking in the Colorado high country is much like basic hiking anywhere except for the special challenges of altitude, sudden weather changes and possible disorientation in the mountains. Check Tips for Hiking the High Country below.
Basic Tips for Hiking the High Country
Start out slowly, gradually increasing your pace and distance traveled. Let the slowest person in your hiking, paddling, biking or cross-country skiing party set the pace. This is especially important when children are part of your group.
Plan your hike ahead and assign duties that are agreeable to each person. If someone doesn't like to cook, don't force them to do so. . The goal is to have a good time outdoors.
Take turns leading the group and sharing decision-making responsibilities.
Hike, bike or ski only on marked trails in wilderness areas unless bushwhacking is allowed and you have excellent navigation skills.
Hike and travel in groups as much as possible, especially during winter and in hazardous terrain. Leave your itinerary with a friend or family member and check in with them upon your return.
Learn basic repair skills for changing a bike tire, fixing a backpack or mending a snowshoe. Remember to take repair kits on your trip.
Mountain weather is generally cooler, cloudier and windier than other places. For every 1,000 feet of elevation, the temperature often drops three to five degrees. Wear sunglasses and a hat or visor when you hike, ski or paddle. Snowblindness, caused by the sun's glare on snow, can also be caused by sunlight reflecting off water or boulders. Keep your eyes and face covered, especially during your first few days outdoors.
Bring sunscreen no matter the season. You can get a painful sunburn even in subfreezing temperatures.
Develop an emergency plan before you start your trip. Make sure everyone knows what to do if they become lost or a medical emergency arises. Give children whistles with the instructions to "stop and blow" if they become lost.
Take frequent rests or vary your pace to recover from strenuous activity spurts. A steady pace will get you there with less discomfort than the sprint-and-catch-your-breath approach.
Drink plenty of water. Water is heavy to carry, but thirst on the trail is a hazard. Take a tip from athletes: Before a hike, drink some water so you're well hydrated and energized. Don't run out of water. Never drink your total supply between refills. Backcountry water supplies are unpredictable. It's better to arrive at a gushing stream with 1/3 quart of water left then to arrive at an empty streambed and have no water left at all. Treat or filter all water and rehydrate to your heart's content at the water supply.
Pack carbohydrates--energy bars, granola, candy, gorp and fruit provide an instant pick-me-up on the trail.
Bring a first-aid kit tailored to your outing.
Give yourself about two hours of daylight to set up camp. National parks and many state parks and other federal lands prohibit dogs. Be sure to keep pets on leashes in restricted areas, especially in cattle and sheep country. Bring water for pets and make sure they have name tags. Watch for injuries to your dog's foot pads in rocky areas, on ice or in extremely hot terrain. Pay attention to local regulations, especially concerning camp fires. In many desert or drought areas, fires are prohibited and you must use a camp stove.
Dress in layers. Polyester clothing worn closest to your skin will trap warm air next to the skin and transfer or wick body moisture away.
Always carry a poncho or other rain gear.
Day Hiker's Checklist
Before you hit the trail, take the time to make sure you've included the items on the following list to make your trip safer and more enjoyable. This list is designed to help equip hikers just starting out. You will probably develop your own mental checklist as you gain experience.
Gear
Map and/or guidebook
Compass
Full canteen(s) or water bottle(s)
Pocket knife
Flashlight or headlamp with new batteries
Waterproof matches
Insect repellent
First aid kit
Sun protection (sunglasses, sunscreen, lip balm, hat with visor)
Toilet tissue (in a plastic bag)
Notebook with pencil
Whistle
Day pack or fanny pack
Moleskin(TM)
Money
Camera and film (optional)
Binoculars (optional)
Clothing
Supportive footwear designed for the length of your hike and terrain to be encountered
Spare socks (optional, but nice to change into at lunch time)
Pile jacket or pullover
Rain/wind shells (jacket and pants)
Wool or polypropylene hat
Baseball style hat (to protect from sun)
Bandana (optional)
Day Hiking Tips
Carrying your clothing and food in different colored stuff sacks keeps your pack organized and helps you find your gear easily when you need it.
Always carry plenty of water. Three quarts per person per day is a good rule of thumb. Warmer conditions and/or rugged terrain may necessitate carrying more. Take drinks often to stay well hydrated. Purify water from natural sources. Fill your canteens before you leave home. It is better to be prepared than to rely on backcountry water sources.
Carry more food than you think you will need. It is better to bring extra snacks home with you than to go hungry.
Practice minimum impact hiking. Carry out whatever you pack in so others can enjoy the surroundings. If you can, help pick up what previous visitors may have left behind.
When you choose a hike, consider the ability levels of all members of your party. Hike only as fast as the slowest member of your group.
Acquaint yourself with the area and specific trail(s) you plan to hike so you can set a reasonable timetable for your hike. Many guidebooks include estimated times of trips.
Start off slowly to avoid excess fatigue part way through your hike. Make sure your vehicle is in good running order and your gas tank is full.
Check weather conditions before you leave. Leave your itinerary with someone you trust and check in with them upon your return.
Backpacking around Salida and Buena Vista Colorado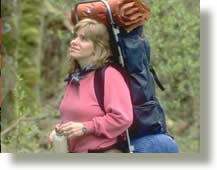 Backpacking and hiking in Colorado are fun and not really so different from backpacking or hiking anywhere else where the mountains are high, beckoning and accessible.
The prime considerations for your outdoors adventure include the following:
be in shape
have the proper equipment
have the proper clothing
have the proper food
have a thorough awareness of the mountains and what they can do to you as well as what you can do to them.
The equipment you choose to bring along to the mountains is completely up to you. It is limited only by what you can fit in your pack and by how much weight and bulk you can handle. Here is a sample list:
Backpack and frame
Tent or tarp
Ground cloth
Sleeping bag
Foam pad
Rope (nylon cord)
Flashlight with extra batteries and bulbs
Sunglasses
Insect repellent
Matches in waterproof case
Whistle
Water bottle (plastic)
Eating utensils
Sanitation
Because of the need to prevent deterioration of the environment and spread of disease, the following precautions must be taken:
Cooking and eating utensils and hands must be clean for every meal.
All human waste and uneaten food that cannot be burned must be disposed of by burying away from your camp and at least 300 feet from any stream or body of water.
Soap should be kept out of lakes and streams as much as possible. Washing with soap should be done in a pot, and the wash water discarded 200 feet from the stream. Soaps should be biodegradable.
Toilet paper must be burned or buried.
All non-burnable, non-biodegradable refuse must be packed out. Carry out litter left by others.
A Few More Tips
The following list of resources provide yet more important information for those who want to tackle some of the hiking trails in central Colorado.
American Alpine Club
Climber community, promotes and disseminates education pertaining to mountaineering. www.americanalpineclub.org
Hiking in Colorado
Personal accounts of hiking experiences, calculator to assess hike difficulty, list/short descriptions of Colorado's mountain towns.
www.hikingincolorado.org
High Altitude Medicine Guide
Important health information for those who travel to the high mountains.
www.high-altitude-medicine.com
Wilderness Medical Society
Organization of health professionals dedicated to wilderness medicine research, education, and healthcare.
www.wms.org
A Few Great Hiking Trails Around Central Colorado
Agnes Vaille Falls Trail – Trailhead is directly across from Chalk lake Campground, begins at 8700 feet elevation and ends at 9000 feet. It is short (0.5 miles), relatively easy interpretive trail that ends at a waterfall. To get to the Agnes Vaille trailhead, take Hwy 285 to CR 162. Turn west and travel about 6 miles. Agnes Vaille Falls Trail is located in the Chalk Creek Canyon. Chalk cliffs surround the area. Mountain goats and bighorn mountain sheep may be seen. Note that this trail was closed in September 2013 after a rockslide. Check with USDA Forest Service for trail conditions.
Starvation Creek Trail – Don't let the name dissuade you, it refers to cattle that starved as a consequence of a blizzard and heavy snow. This rather easy trail stretches about 6.5 miles, reaching the Continental Divide. You can make this into a loop trail by returning on the Poncha Creek Road. To access the Starvation Creek trailhead, take Hwy 285 south from Poncha springs for about 5 miles. Turn right on CR 243 (Mears Junction) and continue past the O'Haver Lake/Marshall Pass turnoff. Take CR 203 to the Starvation Creek trailhead. Camping is permitted off the trail, which incidentally, abounds with interesting rocks. There are book trout in some pools. Closed November through may due to heavy snow conditions.
North Cottonwood Trail – Take advantage of this trail during the peak of summer wildflower season, typically during the month of July. This trail is a gateway to several easy day trips that can lead to picnic sites or jumping-off points for longer climbs up to14,000 foot peaks. To get to the trailhead, take CR 350 west off Hwy 24 in Buena Vista. Turn right on CR 361, head north for 2.5 miles, then follow the signs. High clearance vehicles are recommended. The path from the trailhead parking lot splits about a mile down the trail. Going to the right leads hikers north into the Horn Fork Basin. The path to the left goes to Kroenke Lake. Trail length is 4.3 miles.
Horn Fork Basin - This basin is formed by the ridges of Mt. Harvard and Mt. Columbia. Nestled against the south ridge of Harvard, at the end of the basin is an excellent trout fishing lake called Bear Lake. Above timberline, high alpine meadows surround both sides of Horn Fork Creek. The hike to the basin and Bear Lake is a gentle climb of 2000 feet. Starts at North Cottonwood Creek trailhead, trail length is 7.25 miles.
Kroenke Lake - This is a pleasant destination for a picnic lunch. It is 4 miles from the trailhead parking lot. The trail leading to Kroenke Lake continues past the lake on to the Continental Divide. The Colorado Trail bisects North Cottonwood Creek Road before the trailhead. Hiking north on the trail for about 1 mile leads to Harvard Lakes, which can provide an afternoon of fishing. Paths leading to Mt. Columbia and Mt. Harvard intersect the Colorado Trail north of Harvard Lakes.
Rainbow Trail - Starting in Salida at CR 108, the Rainbow Trail extends southeast into Fremont County. Paralleling the eastern slopes of the Sangre de Cristo Range, the trail ends in Custer County near the Great Sand Dunes. For the purpose of taking a day hike, the trail can be picked up at CR 108 or just south of Mears Junction on Hwy 285 south of Salida. Features accessible from the trail include Methodist Mountain, Hunts Lake, Stout Creek and The Bushnell Lakes and Falls. Mines are scattered throughout the Rainbow Trail region. Rainbow Trail is over 100 miles in length. For detailed maps of this trail, stop by the Salida Ranger District Office at 325 W Rainbow Blvd (Hwy 50), Salida, CO.
Hiking and Climbing Links
Rock-N-Row
Rock & Mountain Climbing Instruction
PO Box 1192
Salida, CO 81201
(719) 539-9165
http://www.rocknrow.com/

See what others have to say about Salida.