Best of Salida - Rocky Mountain Geology and 14er Information
"Society speaks and all men listen, mountains speak and wise men listen."
- John Muir
There is no better ambassador, no better asset within the state of Colorado and Chaffee County than the legendary Rocky Mountains. Few geographic formations possess the majesty and rugged splendor of these peaks, and equally few have had such a profound influence on the peoples of the surrounding regions.
About 70 million years ago, the shallow inland sea retreated from Colorado for the last time. The cause of the retreat was a tremendous uplift, the Laramide Orogeny, of the entire Rocky Mountain chain. A very important consequence of this orogeny was the deposition of minerals in Colorado. During the Quartenary Period that followed, a vast cooling took place and as a result immense mountain glaciers were formed. These glaciers began near the crest of the mountains and slowly ground their way down to the valleys. In their wake, they left steepened slopes, carved cirques, and deposited great masses of rock at their terminus. The effects of these glaciers can readily be seen in the glacier carved cirques of the Sawatch Range.
Sometimes referred to as "the backbone of the Continent," the Sawatch Range towers above the Arkansas Valley below. The name "sawatch" comes from an Indian word meaning "blue earth." The early surveyor Hayden called the range one of the grandest of eruptive masses on the continent. Fifteen fourteeners rise in the Sawatch, including the three highest peaks of the Rockies. The Range averages about 20 miles in width and stretches for 90 miles. The Continental Divide is an integral part of this portion of the Rocky Mountains. These mountains are more impressive for their massiveness and altitude than their ruggedness. An expedition in 1869 led by a geology professor at Harvard traversed Trout Creek Pass to behold three massive, prominent peaks. The three peaks were named Harvard, Yale, and Princeton and are thus often referred to as the Collegiate Peaks of the Sawatch Range. After these ivy league schools had their names attached to these three peaks, an alumnus from Columbia University ascended a peak and named it Mt. Columbia.
Both the Mosquito Range and the Sawatch Range are part of the Laramide Uplift. Sedimentary rocks of the Mosquito Range dip east and those of the Sawatch dip west. Beneath deposits near the town of Granite is Precambrian granite that is 1750 million years old.
---
Mount of the Holy Cross
14,005 ft. (53rd highest)
The northernmost of the Sawatch fourteeners, this remote and rugged site was not officially documented until Wm. H. Jackson photographed it on glass plate in 1873. The Holy Cross area has been a religious shrine, a national monument, and a bombing range. The cross is a natural rock formation made visible at distances by snowy conditions.
Mount Massive
14,421 ft. (2nd highest)
Mt. Massive has seven summits over 14,000 feet high and dominates the Leadville area.
Mount Elbert
14,433 ft. (highest point in Colorado)
The highest peak in the Rockies, this mountain was named for Samuel T. Elbert, Colorado territorial governor.
La Plata Peak
14,336 ft. (5th highest)
This fourteener sits between Leadville and Aspen. It is an impressive mountain peak, visible from Independence Pass. Its north ridge is a destination for mountaineers who enjoy technical climbing.
Mount Oxford
14,153 ft. (27th highest)
This mountain was named by Jerome Hart of the Colorado Mountain Club in 1931. A Rhodes scholar, he found an appropriate tag for the unnamed peak.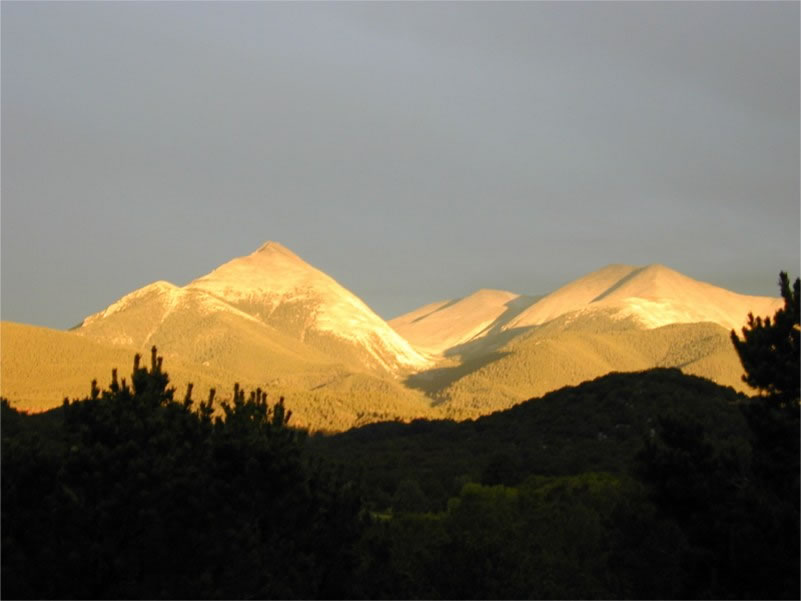 Mount Belford
14,197 ft. (19th highest)
Mount Belford and its neighbors, Mount Oxford and Missouri Mountain, lie along the divide between Clear and Pine Creeks in the northern part of the county near the ghost towns of Winfield and Vicksburg. Belford was named for Colorado's first US congressman, Rep. Jaime Belford.
Missouri Mountain
14,067 ft. (36th highest)
Most likely this peak was named by miners from the state of Missouri.
Huron Peak
14,005 ft. (52nd highest)
Located in the same area as the Missouri-Oxford-Belford triad, this peak can be accessed via the ghost town of Winfield.
Mount Harvard
14,420 ft. (3rd highest)
The highest peak in Chaffee County, named in 1864 by a geology professor from Harvard.
Mount Columbia
14,073 ft. (35th highest)
In 1916, Roger Toll of the Colorado Mountain Club christened this peak with his alma mater's name.
Mount Yale
14,196 ft. (21st highest)
Mount Princeton
14,197 ft. (18th highest)
Mt. Princeton is located at the junction of four USGS maps--Harvard, Garfield, Buena Vista and Poncha Springs. Its magnificent profile dominates the scenery and is the first peak you see as you make the descent from Trout Creek Pass.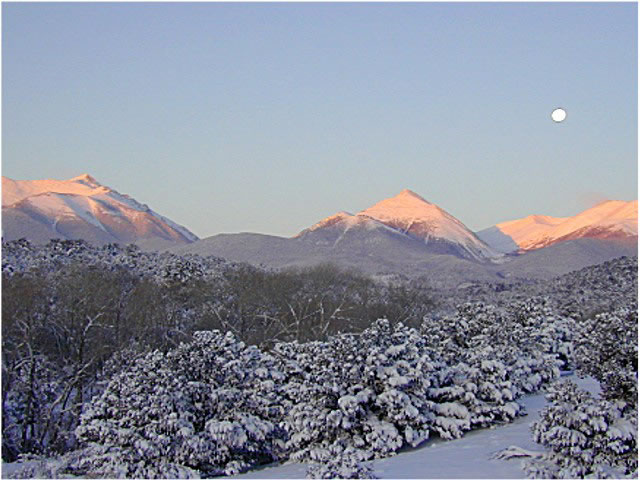 Mount Antero
14,269 ft. (10th highest)
Mount Antero is the tallest peak in Colorado named for an Indian, Chief Antero of the Uintah band of Ute Indians, who helped keep peace during the uprisings in the 1860s and 1870s. Antero was one of the signatories of the Washington Treaty of 1880 which revised an earlier treaty and led to the Utes losing most of their land. Antero was a proponent of peace during the difficult relations between the Ute and the whites in the late 1860s and 1870s.
Early prospectors in the area looked at Mt. Antero as a source of silver--but none was found and no claim was staked. What was missed was that the peak was a rich source of gemstones and in 1884, Nathaniel Wanemaker discovered a number of blue aquamarines near the peak. Since that time, Mt. Antero has proved an extraordinary source of aquamarines, topaz, and clear and smoky quartz crystals. Some of the mined clear crystals have been huge and the common smoky quartz crystals taken from this area have weighed as much as 50 pounds.
Another highly prized mineral found on Mt. Antero is beryllium, a lightweight, corrosion-resistant, rigid, steel-gray metal. It is valued as an aerospace structural material, as a moderator and reflector in nuclear reactors, and is used in a copper alloy for springs, electrical contacts, and non-sparking tools.
Mount Shavano
14,229 ft. (17th highest)
Named for Chief Shavano of the Tabeguache band of Ute Indians, Shavano is usually climbed in tandem with Mt. Tabeguache. Mt. Shavano Snow Angel is a local legend during the winter.
Tabeguache Mountain
14,155 ft. (26th highest)
Named for a band of Ute Indians, Mt. Tabeguache was not considered to be a separate mountain until 1931.
---
Bag a 14er, Eat Gourmet, Sleep Like a Queen (or King)
After you have "bagged" one of the Salida Fourteeners, indulge in a gourmet meal to celebrate your accomplishment! Salida's Laughing Ladies Restaurant and Currents Restaurant, both located near the stoplight in downtown Salida, are considered to be among the finest restaurants in central Colorado. Laughing Ladies Modern American Cuisine offers complex flavors and fresh ingredients in its menu; the selections at Currents focus on steak and seafood.
Once you have satisfied your hunger at one of Salida's best restaurants, it's time for some shut-eye at one of the Salida Colorado lodging facilities. Take a look at our Salida Lodging section to find a hotel, motel, bed and breakfast, hostel, or campground to suit your wants and needs.